Bringing home a kitty is one of the most amazing experiences ever. Soon you'll be sharing your home with a cute little fur ball that will add tons of beautiful memories to your life. However, caring for a little kitten is easier said than done. Fortunately, the following article will make life easier by sharing 9 simple tips to help your little kitty feel at home faster.

1. Get the right breed.

There are different cat breeds and every breed has different personality traits. Some cat breeds require constant care, grooming & attention, whereas others can be extremely independent. So, if you are thinking of bringing home a kitten, making sure you get a breed that matches your lifestyle is the first thing you need to do. It will ensure both you and your kitty find it easier to get along, today and in the future.

2. Get the kitten's age right.
During the first 10 to 12 weeks, every kitten will have some very important needs. They will have to be given special nourishment, you'll have to help with their dirty business, vaccines will need to be taken care of, so on and so forth. This is one of the reasons why most breeders will put kittens up for adoption only after they are 10 to 12 weeks old. However, if you find yourself adopting a street kitten or an orphan who is younger than 10 weeks, you will have to schedule a trip to the veterinary to get the right instructions.

3. Talking about vets, you'll need to find one.

It's best you find a vet right off the bat. Some owners only go looking for a vet when there's something wrong. However, taking your little kitty to the doc even if you don't see any sign of worry is important. They will be able to advise on the sort of diet your kitty needs to follow, which food is preferable, the portion sizes and frequency of feeds. Also, your kitty could be susceptible to illness, especially while he/she is still young – you should ask for any signs to look for.

4. Find the right kitty food.

There's a difference between cat food and kitty food. Most leading brands will have food specially formulated food for kittens. This should be good enough as long as it has an AAFCO or similar certification. It helps if you can pass it by your vet once or ask him/her to recommend a brand.
 
5. Prep a room.

Before your kitty can explore its new home, it first needs to get accustomed to one room. It will need to be a quiet place in your home, maybe a guest room or a drawing room; wherever there's less foot traffic. You'll need to cordon off this area by shutting the doors or installing a baby gate. Make sure the room has everything your kitty needs – water & food bowls, a box for your kitty to snuggle into, a scratching post, and most importantly, a litterbox. Remember to keep the litterbox as far away as possible from the rest of the things in the room.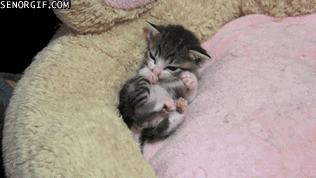 6. Getting your kitty accustomed.
Give your new kitty time to settle in before your kids can cuddle with and your cats/dogs/other pets can meet him/her. You can leave pieces of your clothing or your other pets' sheets in the safe room. This way, your kitten is accustomed to the scent of you, your kids and your other pets before he/she meets them.
7. Get kitty to socialize.

After a couple of days, you can think about letting kitty explore the house. Your kids can get more access and you can introduce your other pets. Look for any tensions and, if there is any, maybe kitty needs more time. Every kitten will take varying amounts of time to adjust so don't be surprised or worried if kitty is still a little shy after 1 or 2 days. It just means he/she needs more time.

 8. Look for worrying signs.
Remember those signs your vet told you to look out for. If you see or think you see any of them, try and get kitty to the vet or at least speak to the doc over the phone. He/she might tell you about more symptoms to look for so you can make a more concrete diagnosis. Kitties are susceptible to illness when they are young so it's wise not to take even the most trivial of signs lightly.

9. Get the right gear!
Now that kitty has adjusted the surroundings and other family members, it makes sense to do all you can to make him/her feel more at home. You can start by looking for nice beds, ones that are soft and warm; because cats love to sleep, it's no secret, and cozy little bed is sure to make your kitty feel more relaxed in his/her new home. Cat toys should be next on your list, followed by brushes and grooming products, a cat tree to keep to kitty active should also be on the list. Remember, we have all these products and more to make kitty love you and your home faster & easier.

We hope this has been helpful and we wish you all the best with your new kitty. We are sure he/she will bring joy to your home and add more excitement to your life. Good luck and have a pawsome day ahead!