Well, don't be surprised if I add some big celebrity names to the list of cat lovers along with you. Yes! To your surprise, it includes Hollywood movie celebs too. You may be a fan of someone, check out if that someone and you, are both cat fans/ cat fanatics.
Taylor Swift
The famous American singer known for her "Lover" song is a cat lover! She confessed about this at an interview with TIME in April 2019. The Grammy award winner conceded that her "Life's most influential factor" is her kittens. She named her kittens after fictional characters as "Meredith Grey" and "Olivia Benson".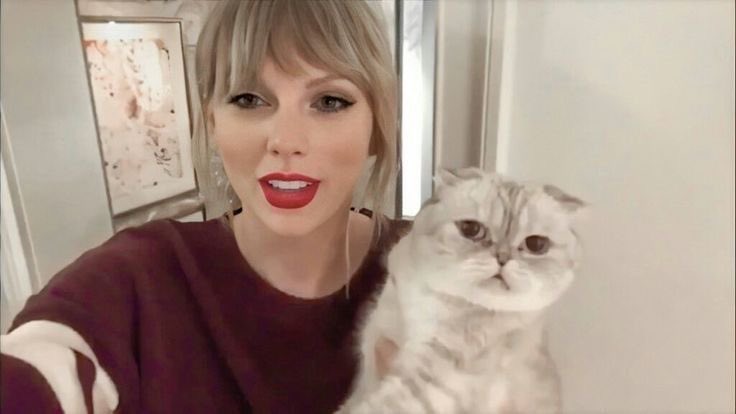 Image Credit: Twitter (She is holding her cuddly kitten)
Katy Perry
One of the famous American Singer and songwriters is also a cat fanatic. She is the "I Kissed a Girl" singer. Her deep love and relationship with kittens are evident from her heart throbbing Insta post, thanking her kitten "Purry" for all cuddles and companionship was touching. Unfortunately, "Purry" left the world in April 2020.
Image Credit: Source
Elisabeth Moss
A popular American actor, director, a producer is an active cat parent. One of her Instagram posts says how she wants to keep her feline near her on live. Along with this announcement, she didn't forget to tag her cat friend, "Ethel".
Image Credit: Source
Kate Beckinsale
A famous English actress and model, hailing from the UK, she is known for her works in movies like "Van Helsing", "Whiteout" and few others. Her Instagram posts are filled with her cat companions namely "Clive" and "Willow". These caught everyone's attention especially in the pandemic struck 2020.
Image Credit: Source
Well, it's not only cat-moms there are cat dads too. Let me add one of them here
James Franco
Born as an American, he is a successful actor, filmmaker, painter, and writer. He got his break from Pizza Hut commercials in the 1990s but then he grew up to be a well-known actor. He was also nominated for the prestigious Oscar and Bafta Awards. Yes, he is a cat parent and is proud to share some snaps with his cat kid.
Image Credit: Source
This list of purrfect celebs who are also cat – lovers can go endless because most people are cat fans. There are dog people too. But cat people are also there equally. Some names in the above list may have surprised you, nevertheless, I hope you enjoyed getting to know these sailors of your same catboat!
Treat yourself with some fe(li)nominal cat puns here and Kudos…to all cat parents 😊
Visit our

 

blogs page for more fun cat topics and cat products visit www.catcurio.com